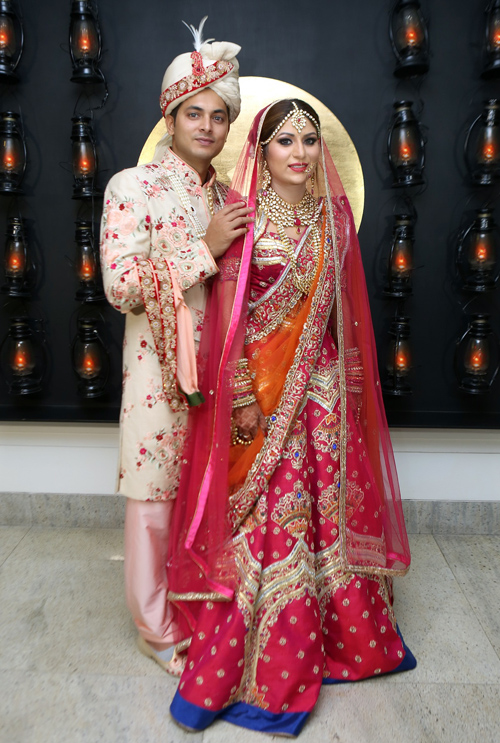 Wedding Mantra Presents Limitless Love Story-
Love is an emotion, which knows nothing, yet makes you feel complete. Love is beyond religion, beyond gender, beyond class. Love is limitless!
When Aashika and Asif fell in love with each other, they forgot how life is individually, all they knew was to fill the gap in each other's life and stay that way forever. There love was unfathomable, way deep down any emotion, where the soul sleeps and dream happen, where pain can't live because they have nothing for them to feed on. When love like that happen, they create in them a bond stronger than life itself, a bond that's bleeding together in two souls, like two river running together mixing up their water in one. That bond is called marriage.
"I believe in destiny and fate, and whenever I see her in front of me, that belief gets even stronger. That's how much I love her", an immediate response from Asif on what love for Aashika means to him.
"I never fell in love with him, I walked in love with him, feeling each and every step and each and every move it takes to be with him" replied Aashika. "I think I'm the luckiest bride who is getting to learn two cultures together, just in one function. To be able to get love from two families is the best gift a daughter could get, and that's what happiness is."
There is always a reason why two people stay together, because they always give each other that someone, or something else can't. This is what we can see in the eyes of Aashika and Asif, a love beyond imagination.  The world where they live in when they are together is above all the fantasy lands, that a movie can't show and a book can't express. A world where only the two lives their whimsical life!
They wedded into each other's life in a mixed cultural wedding. The extravaganza took place in a grand setting of Four Points by Sheraton, where the bride and groom had their fairy tale wedding. From Red she wore during the Nikah to yellow she wore during the mehndi, Aashika's outfit was an amalgamation of elegance and femininity, making her look one of the prettiest bride ever. With his sherwani with works in matching colour, Asif played the role of handsome prince charming in Aashika's life.
The colourful set up of their Mehndi, Haldi and Wedding described their larger than life personality. They said the magical words trice "Kabul Hai, Kabul Hai, Kabul Hai" and became each other's forever.